CNC Turning and Milling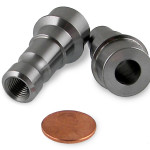 CNC milling and turning is our specialty. Using your blueprint, CAD drawing, reference part, or even just an idea, we will take whatever steps necessary to prototype and/or produce your parts to the required specifications in the quantity you need in the most efficient manner possible.
 Precision TIG and MIG Welding
Our in-house welding department has the equipment and experience necessary to produce complicated assemblies to exacting specifications. If you need a precise fit, we'll design and build a jig to ensure consistency from one part to the next. We always apply the most appropriate joining methods to fulfill your needs. Whether aluminum, steel, titanium, or another alloy, you can count on strong, appealing welds on every piece we deliver.
FINISHING, ANODIZING, POWDER COATING, AND PLATING
Unfinished parts are great when hidden out of sight, but what if you need something more aesthetically pleasing? With our high-output tumbling machine, brushing and deburring wheels, and polishing compounds, we're equipped to provide just what you're looking for. For a more exotic look, we out-source our anodizing, powder coating, and plating to a local company. We've established a healthy business relationship, and we're pleased to be able to refer such services their way with confidence. They provide other similar services, too, so let us know what you need and we'll work it into the quote.
UNCOMPROMISING QUALITY CONTROL
The best machines in the world don't mean a thing if there's nothing keeping them honest. We know the most important part of the manufacturing process is quality control, and we have the tools and experience to get the job done right. This is only a selection of our measuring equipment. We are working towards an ISO 9000 certification and already have much of the framework in place. If you have any questions, please ask.